cranberry-ginger biscotti.
Posted in baking, cookies, fruit, recipes, sweet | 5 comments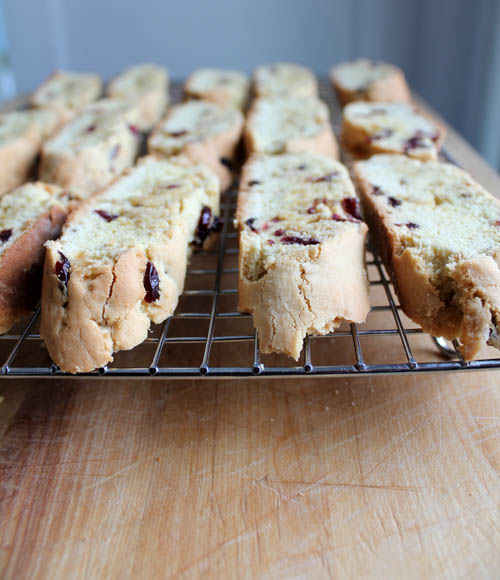 A friend recently asked me how I choose what to make on my adventures in baking. Well, occasionally I whip up family favorites or requests, often I play around with tastes and textures in baking experiments, and sometimes there are recipes for desserts and confections that have long been on my "to bake" list. And then — increasingly as my baking prowess swells — there are those fresh and boxed treats that I come across in my daily trips to local food shops and down grocery store aisles when I taste and peer at the item, inspect the food's list of ingredients and say to myself: "I can make that… and without all those nasty preservatives and unpronounceables, at a fraction of the cost." And so I was inspired to make biscotti…
Probably most commonly seen in North America at your local posh coffee shop, biscotti are the dry and crunchy, almond-shaped cookies which are ideal for dunking in frothy cappuccinos and lattes, potent coffee, and other warm bevvies including tea and even hot chocolate. And although biscotti may look exotic and intimidating stacked in giant, glossy glass jars on the counter-top at that swanky cafe, these twice-baked cakes are deceivingly easy to make.
Italian in origin, the name for these brittle biscuits actually refers to the process by which they are made: biscoctus, means "twice-cooked" in Medieval Latin. Biscotti dough is first baked as a loaf for a period of time, and then sliced on the bias while the loaf is still piping hot from baking in the oven. The resulting ovoid biscuits are then returned to the oven to continue baking at a low temperature until they are thoroughly dehydrated. This process of double-baking traditionally served as means of preservation, making biscotti an extremely useful and popular nonperishable foodstuff over the centuries; in fact, biscotti are said to have been a staple among the Roman Legions in ancient times. Who'd have thought that the simple biscotti would become such a trendy indulgence more than two thousand years later?
Cranberry-Ginger Biscotti
Preheat oven to 375 degrees F
Ingredients
4 tbsp (½ stick) unsalted butter, softened
½ cup sugar
¼ cup brown sugar
2 eggs
¾ tsp almond extract
2¼ cups all purpose flour
2 tsp baking powder
pinch sea salt
¼ cup candied ginger, minced
½ cup dried cranberries
parchment paper for lining 1 large baking sheet or 2 standard cookie sheets
Tip
No parchment paper? No problem. Use some extra unsalted butter to grease your baking sheet(s), sprinkle with flour, shake to distribute, and invert to shake off excess flour. Voila!
Directions
Line baking sheet(s) with parchment paper.
In large mixing bowl, cream together butter and sugars until light and fluffy; beat in eggs, one at a time. Mix in almond extract.
In separate bowl, whisk together flour, baking powder and salt; add in ginger and cranberries; gradually incorporate flour mixture into butter mixture in larger bowl.
Divide dough in half; form each portion into a 2-inch-wide by 14-inch-long log; place 2 rolls on a very large baking sheet or put each roll on its own (smaller) standard cookie sheet.
Bake in preheated (375 degree F) oven for 22-25 minutes, until loaves are golden brown and are just beginning to crack on top.
Remove loaves from oven; lower oven temperature to 250 degrees F.
Let loaves cool for about 5 minutes (until they are cool enough to handle without burning your hands!); use a serrated knife to cut each on the bias (diagonal) into ¾-inch-thick slices.
Lay biscotti slice-side down, and return to oven; bake for a further 20 minutes (turning once), until they dry out completely.
Cool biscotti on wire racks; makes about 3 dozen.
Store biscotti in airtight container (or your very own fancy glass cookie jar) for up to 2 weeks.
Recipe Adapted From: How To Cook Everything: Simple Recipes for Great Food
you might also like.