purple power blueberry crisp.
Posted in baking, favorites, fruit, fruit desserts, recipes, sweet | 7 comments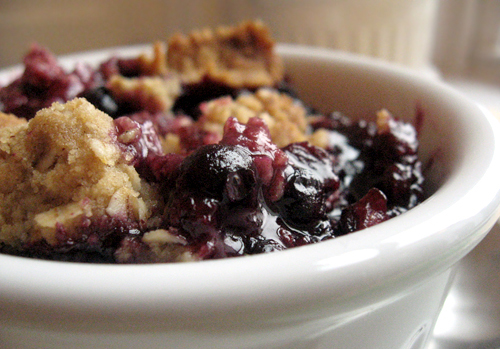 Crisps are pretty easy, as desserts go, but blueberry crisp takes simplicity to a new level. With no peeling, coring or slicing required, this cozy and irresistibly delicious dessert is a cinch to make any time of year (thanks to frozen blueberries). In fact, you could whip up this dessert half-way through dinner and serve it steaming hot from the oven, just in time for guests to dig into it for last course.
Blueberry Crisp
Preheat oven to 375 degrees F
Blueberry Filling Ingredients
3 cups blueberries, frozen or fresh
1 tsp vanilla extract
½ lemon, juiced
¾ cup granulated sugar (or to taste)
2 tsp all purpose flour
1 tsp cinnamon
pinch allspice
pinch ground ginger
2 tbsp salted butter, cut into chunks
Crumble Topping Ingredients
2 cups all purpose flour
2 cups rolled oats
1 cup brown sugar, packed
½ tsp cinnamon
¼ tsp allspice
1 cup salted butter, melted
Tips & Substitutions

Do not forget to include the flour in the filling; this crucial ingredient will mean the difference between having a slightly thickened, gooey blueberry filling (good) and watery blueberry soup with a crumble topping (not so good).
You may substitute whole wheat flour for all purpose flour in this recipe to boost its nutritional integrity.
Blueberry Filling Directions
Lightly grease an 10×8-inch or 9-inch square baking dish with butter.
Place blueberries, vanilla and lemon juice in baking dish; sprinkle with sugar, flour, cinnamon, allspice, and ginger. Toss gently with wooden spoon or spatula.
Dot with knobs of butter; set aside.
Crumble Topping Directions
In medium bowl, combine flour, rolled oats, brown sugar, cinnamon and allspice with your hands or a fork.
Add melted butter, moistening the flour mixture by stirring with a fork at first and then squeezing the mixture with your hands to create marble-sized chunks of crumble topping (people will be fighting over these yummy, buttery nuggets).
Distribute topping evenly over blueberry filling.
Bake for 30-35 minutes in preheated oven (375 degrees F).  Blueberry filling should be bubbling up around the edges of the baking dish, and the crumble topping should be a lovely golden brown.
Serve immediately with a large serving spoon or spatula. Serve à la mode with ice cream or whipping cream, if desired.
you might also like.