gingerbread cupcakes.
Posted in baking, cake, cupcakes, recipes, sweet | 19 comments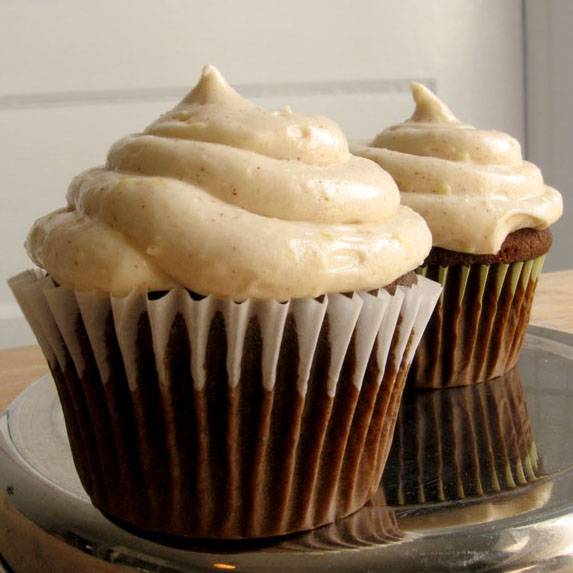 There's no reason to limit cupcakes to just vanilla or chocolate; put a festive spin on the traditional cupcake with gingerbread! With aromatic spices such as ginger, cinnamon and allspice, these gingerbread cupcakes are perfect for fall and holiday baking. And a generous swirl of the creamy, rich, citrus-cinnamon cream cheese frosting perfectly balances the deep and dense flavors of the gingerbread.
Easy, quick, and deliciously unique, these gingerbread cupcakes have more complex flavors than your typical cupcake, but maintain a homey feel that will make them a favorite for the whole family.
Gingerbread Cupcakes
Preheat oven to 375 degrees F
Cupcake Ingredients
½ cup sugar
½ cup butter, softened
½ cup molasses
2 eggs
2 cups all-purpose flour
1 tsp baking soda
½ tsp salt
1½ tsp ground ginger
½ tsp ground cinnamon
½ tsp ground allspice
¾ cup water
Frosting Ingredients
1 package (8 oz) cream cheese, softened
¼ cup butter, softened
2 tsp lemon peel, grated
1 tsp ground cinnamon
1 tsp vanilla extract
4 cups icing sugar
1-2 tsp milk
Tips
For a sweeter cupcake, use light molasses; for more full-bodied flavor use the thicker, less refined (and less sweet) blackstrap unsulphured molasses.
This recipe makes between 15 and 18 cupcakes. If you're using 12-cup muffin pans, you'll have unfilled muffin cups in one pan; if you leave empty cups in your pan the heat can warp it while the cupcakes are cooking. Adding some water to the empty cups will help evenly distribute the heat from the oven and protect your pans from irreparably twisting and warping.
Do not refrigerate cupcakes, as this will negatively affect their texture and cause them to dry out more quickly. However, cream cheese frosting absolutely needs to be refrigerated, which means you cannot make and frost these cupcakes the night before. If you aren't able to serve the cupcakes within a few minutes of serving them, I recommend baking the cupcakes in advance and storing them (unfrosted) tightly covered at room temperature, preparing and refrigerating the frosting, and then piping or spreading the frosting on the cupcakes just before your guests are ready to eat them.
Cupcake Directions
Place standard baking cup in each of 18 regular size muffin pan cups.
In large bowl, cream sugar and butter.
Mix in molasses; beat in eggs, one at a time.
In medium bowl, whisk together flour, baking soda, salt, ginger, cinnamon, allspice, and water.
Blend flour mixture into wet ingredients, one cup at a time.
Spoon approximately ¼ of batter into prepared muffin cups.
Bake in preheated oven (375 degrees F) for 15-18 minutes or until toothpick inserted in center comes out clean.
Cool 5 minutes in pan.
Remove cupcakes from pans to cooling rack, and cool completely, about 30 minutes.
Frosting Directions
In medium bowl, beat cream cheese, butter, grated lemon peel, cinnamon and vanilla with electric mixer on low speed until smooth.
Gradually beat in icing sugar, 1 cup at a time, on low speed until smooth.
Beat in milk, 1 tsp at a time, until spreadable.
Spread or pipe a generous amount of frosting on top of each cupcake; if piping, use a large round or star decorating tip to get a nice big swirl.
Serve at once. Yum!
you might also like.