balsamic toffee strawberries.
Posted in baking, candy, fruit, fruit desserts, recipes | 4 comments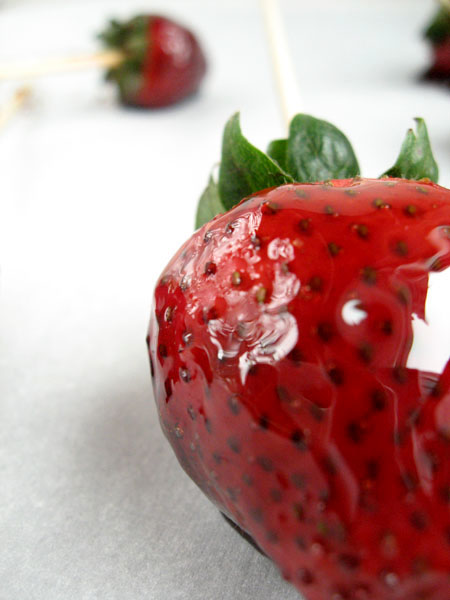 Kick your sugar high up a notch with a sophisticated spin on the traditional candy apple; except set aside the apples for another dessert and indulge on the last of the season's  fresh strawberries… add a dash of balsamic. Yes, that's right: balsamic vinegar.
At once sweet and sour, balsamic vinegar has a unique and intricate flavor that compliments and accentuates the best in salty foods (like goat cheese), astringent foods (like spinach), and — of course — sweet foods, such as strawberries.
If you've never tried them together before, balsamic vinegar and strawberries may seem like an unlikely combination, but it is truly amazing. The addition of dark, tangy balsamic to the thin candy coating wrapped around super sweet strawberries makes for a dazzling (yet simple) and memorable treat.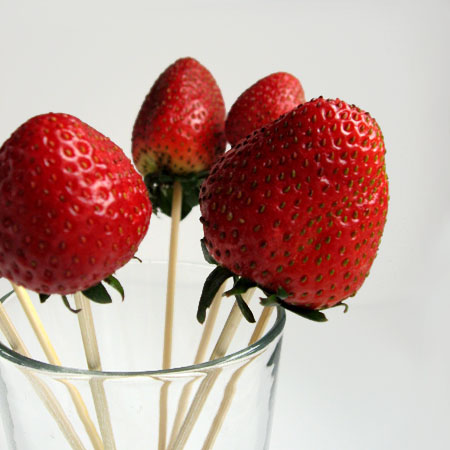 Balsamic Toffee Strawberries
Ingredients
1 quart fresh strawberries, washed and patted dry
1/3 cup water
½ cup sugar
2 tbsp balsamic vinegar
candy sprinkles (optional)
Directions
Insert lollipop sticks or skewers through the tops of strawberries.
Line a tray with parchment paper.
In small saucepan, combine sugar, water and balsamic vinegar (with a sugar thermometer if you have one) and place on low heat.
Stir until the sugar dissolves; increase the heat to bring the mixture to a boil.
Boil for 5-10 minutes, without stirring, until the mixture reaches hard-crack stage (300 degrees F). If you are not using a sugar thermometer, you can tell when the candy reaches the hard crack stage by dropping some of the mixture into a glass of cold water. When the candy drop hardens immediately it is ready.
Working quickly, dip the strawberries in the toffee, holding them by the sticks and twirling to coat. If the toffee in the saucepan starts to harden before you are finished, return it to the heat until it becomes liquid again, but take care not to burn it.
Let the excess toffee drip off and then leave the strawberries to harden on parchment paper.
Optional: dip the bottom of the toffee covered strawberries in chocolate sprinkles before the toffee hardens.
Serve within one or two hours after dipping the strawberries as the moisture from the fruit will melt the toffee over time.
*recipe developed by raspberri cupcakes
you might also like.