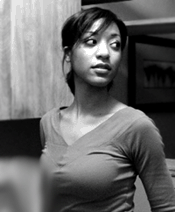 About Johneen
Science geek, entrepreneur, writer, designer, fitness instructor and mommy of three sweet girls by day, inspired baker by night.
Johneen's first introduction to baking was at the age of four, sitting on a stool rolling chocolate truffles in the kitchen of her parents' gourmet restaurant. Although a passionate baker herself from the age of 12 — back when she used to narrate her own imagined cooking shows while whipping up delicious concoctions – life and schooling took Johneen down different roads: science, architecture, web design and publishing, and writing. While baking always remained a fond, occasional hobby, it wasn't until she began baking more consistently for her husband and brood of three young girls that Johneen determined to plunge herself back into handcrafting delicious sweetness.
About Sweet Girl Confections
Sweet Girl Confections chronicles Johneen's rediscovery of the delights of baking, with recipes, notes and tips accompanied by her own photography. The recipes on Sweet Girl Confections reflect Johneen's philosophy on food: think organic locavore with a sweet tooth.