piepalooza: blueberry pie.
Posted in baking, favorites, fruit, fruit desserts, holiday, pastry, pies & tarts, recipes, sweet | 2 comments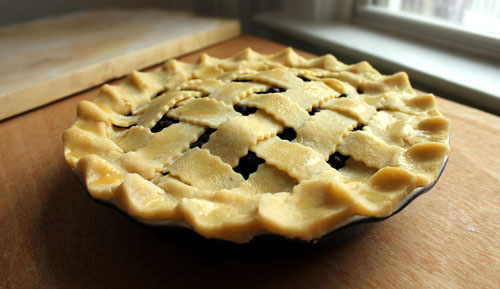 Earlier this year I was asked to bake six pies (of the blueberry and apple varieties) for Select Nova Scotia's winter television commercial campaign to help promote the use of locally grown food and produce within the province. And so began piepalooza at our house. This challenge got me over any residual trepidation I might have had about working with pastry and gave me a newfound respect for the humble, unassuming pie.
Easy as pie? How about four apple pies and two blueberry pies with one oven and four pie pans? Who knew that making six pies would be so labor-intensive, requiring great stamina, lots of counter space, and a surprising amount of upper body strength? Not so easy, but lots of fun.
Unlike flashy, gaudy, and shamelessly ostentatious cakes, pies are homey, soul-warming desserts that (for some of us) remind of us home, and (for others) vivify fantasies of the picket-fence-bound home we thought we always wanted.
Seemingly simple, a pie's golden crust envelops a deliciously mysterious filling whose true splendor is revealed only upon the first taste. Unless you're a professional cake baker, pulling off painstakingly intricate decorations akin to the likes of the Cake Boss, the average home-baked cake is considerably easier to prepare compared to a "simple" home made pie. And even if you are fashioning an ornately decorated cake with rolled fondant icing, swooping chocolate curls, or gallant ribbons of buttercream frosting, for the most part, cake is cake is cake.
I'll probably catch a lot of flack for saying that, but it's true. How much emphasis is ever placed on the cake itself? Chocolate, vanilla, red velvet, yellow, pound cake… blah, blah, blah. Oooh, and don't forget the filling: raspberry, lemon, chocolate… yadda, yadda, yadda.  Even for events as important as weddings, the inside of the cake is relatively inconsequential: pick from a few standard choices and move on the the real focus: the decorations. Cakes are all about the show, and once you've cut them the party is over.
Whereas with pies… well, with pies, the party just begins when you ever so gingerly lift that first slice of pie out of the pie plate. You hope that the ritual of making the pastry, chilling the pastry, rolling the pastry (and then chilling it again), followed by baking at various oven temperatures has been worth it and produced the perfect flaky and flavorful crust. You look forward to seeing the beautifully cooked fruit filling, which neither gels unappetizingly nor oozes all over the plate. You yearn for the blissful look on your guests' faces when they savor the divine texture of the filling and tender pastry combined with the flavor explosion of that first bite. Yes, for my money, pies are where it's at.
Blueberry Pie

Sweet Dough Pastry Ingredients
2 cups all purpose flour
1/3 cup sugar
½ tsp baking powder
¼ tsp salt
½ cup unsalted butter (cold)
2 large eggs
Filling Ingredients
4 cups + 1 cup blueberries (fresh or frozen)
¾ cup sugar
4 tbsp tapioca starch
3 tbsp water
1 tsp finely grated lemon zest
½ tsp cinnamon
¼ tsp nutmeg
2 tbsp unsalted butter
Egg Wash
1 egg (well beaten)
pinch of sea salt
sugar for sprinkling on top crust
1 9-inch deep dish pie plate
Tips
In making the sweet pastry, follow either the by hand method or the food processor method, then continue to the "Sweet Dough Final Step."
And now for a chemistry lesson: blueberry skins contain oxalic acid, which destroys almost all uncooked starch thickeners. The best way to achieve a consistently thickened blueberry pie is to add the blueberries to a cooked starch. Omit this step and suffer the perils of runny pie!
The blueberry filling requires a non-reactive saucepan: ceramic, anodized stainless steel, glass, or nonstick materials will do. Do not use cast iron, aluminum or copper pans, which will chemically react with high-acid foods like blueberries, altering the flavor (imparting a metallic taste) and color.
Sweet Dough Directions (By Hand Method)
Combine flour, sugar, salt and baking powder in a medium mixing bowl; stir well.
Grate butter using a cheese grater; place in freezer to chill (10 minutes).
Add butter to flour mixture; coat butter in flour. Rub butter pieces and flour mixture between your hands (or use a pastry cutter) to incorporate, repeatedly squeezing the butter into the dry ingredients until uniformly combined and mixture resembles coarse cornmeal.
Beat eggs in a small bowl; pour over flour-butter mixture and stir with a fork until dough holds together yet still appears dry and crumbly.
Press and knead the dough in the bowl quickly 3 or 4 times, until smooth.
Sweet Dough Directions (Food Processor Method)
Combine flour, sugar, salt and baking powder in the bowl of the food processor (fitted with metal blade). Pulse briefly to combine.
Cut cold butter into 8 pieces and add to food processor; pulse 10-15 times at 1-second intervals until mixture resembles coarse cornmeal and no large pieces of butter remain visible.
Add eggs; pulse 10 times, until the dough forms a ball.
Press and knead dough quickly (by hand) 3 or 4 times, until smooth.
Sweet Dough Final Step
Place dough onto a lightly floured board; mold into 2 equal discs and sandwich the discs between two pieces of plastic wrap.
Press each disc into a 6-inch disc.
Refrigerate until the dough is firm, or until you are ready to use — at least 1 hour.
Filling Directions
Place a rack at the upper and lower thirds of the oven; preheat oven to 400 degrees F.
Combine 1 cup of the blueberries with the sugar in a nonreactive saucepan. Bring to a simmer over low heat, stirring occasionally, until the sugar is dissolved and the mixture is very liquid.
Combine tapioca starch and water in a small bowl and whisk the blueberry-sugar mixture into it. Return everything to the saucepan and cook — stirring constantly — over low heat, until the mixture comes to a boil, thickens and becomes clear. It will seem like it takes forever, but hang in there. If it does not become clear, continue to cook over low heat for a few more minutes until it does. This is a critical step to ensuring that your blueberry pie doesn't end up being a runny, watery mess.
Pour cooked filling into a large bowl; stir in the water, lemon zest, cinnamon, nutmeg and butter.
Now add the remaining blueberries; cool.
Pie Assembly & Baking
Roll out the bottom crust and arrange in pie pan.
Pour cooled filling into the bottom crust.
Prepare a lattice top crust by rolling out top pastry disc and cutting into strips using pastry roller; arrange in a crisscross pattern over filling.

Flute the edge of the pie and carefully brush with the egg wash; sprinkle top of pie with sugar.
Place pie in the preheated (400 degree F) oven on the lower rack and reduce temperature to 375 degrees F. Bake for approximately 40 minutes, until the crust is baked and golden brown, and the filling bubbles gently.
If the top crust is not brown enough after 30 minutes of baking, move the pie to the upper rack of the oven for the last 10 minutes.
Cool pie on a rack.
you might also like.