vietnamese fresh rolls.
Posted in recipes, savory | 3 comments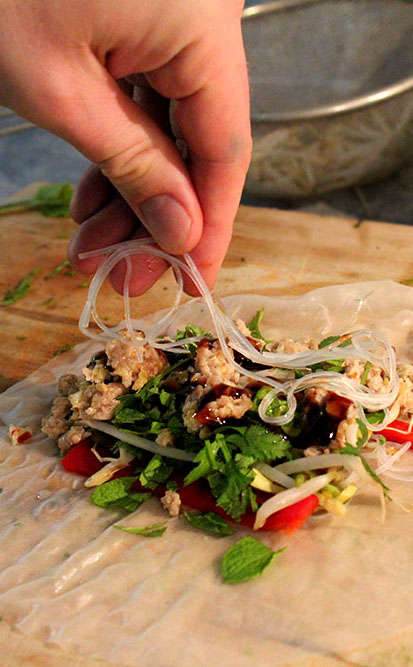 Okay, so it has occurred to me that these (and a few other posts I've added) are neither sweet, nor baked. And that was kind of the whole idea behind this blog when I launched it almost five years ago. But, hey, it's my hobby, and woman, man, and family cannot live on sweets alone.
So today, you'll see a post that is totally outside the usual SGC box: the recipe is my hubby's; the hands in the photos are those of my guy, not me. I guess you could call this a pseudo-guest post, except I'm the one posting, writing and snapping the pics — not him.
Now that that's out of the way, I present the food that I've been happily eating at least two or three meals a week for the past four or five weeks. I can't get enough. And what makes them extra delicious is that I don't have to cook them… I just stand by, sipping a tall glass of licorice tea while Mr. Man shops for, preps, cooks, assembles, and serves me these yummy and ultra healthy fresh rolls. I love them, and so wanted to share them with you.
Vietnamese Fresh Rolls
Ingredients
Meat Filling
450g ground pork / chicken / turkey
½ tsp sea salt
1 tbsp brown sugar
½ red pepper flakes
1 ½-inch piece fresh ginger (approx. 4 tbsp), peeled and finely chopped
1 head garlic, peeled and minced
2 tbsp olive oil
Salad Filling
1 cup bean sprouts
1 red bell pepper, cut into thin, 3-inch long strips
1 cup lettuce, chopped
¼ cup each: fresh mint, basil, cilantro, finely chopped
½ avocado, thinly sliced
1 cup rice or mung bean vermicelli, cookedhoisin sauce
Wrappers
rice paper wrappers
1-inch warm water in a pie dish
hoisin sauce for dipping Directions
We usually marinate all of the meat filling ingredients for at least a few hours (sometimes overnight), and then fry it up just before assembling the rolls.

Have all your other fillings prepped and then you can add the meat and all the veggies, herbs, vermicelli noodles cooked according to the package directions, then add a stripe of hoisin sauce on the inside of the toppings.

Now wrap it all up in a rice paper wrapper that has been soaked for 5 seconds in warm water.

Have additional hoisin sauce ready for dipping or dolloping on top of the wrapped roll, and serve immediately — enjoy!
you might also like.