golden shrimp cakes with tartar aoli.
Posted in recipes | 5 comments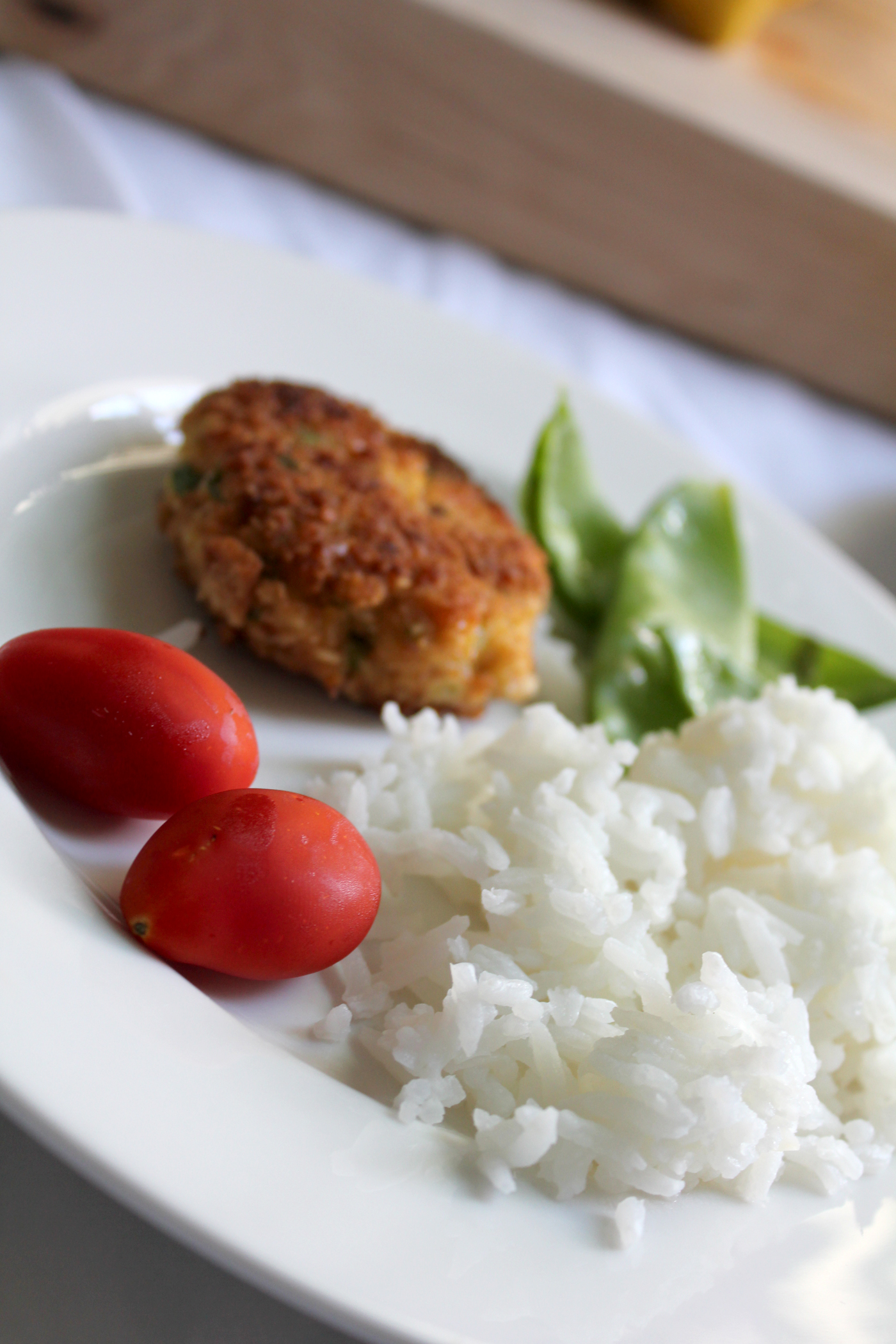 Last night, determined not to go to one of our regular "go-to" meals, and inspired by a Youtube video of Jamie Oliver I'd seen the night before where he had prepped  an entire gourmet meal using a food processor, I decided to concoct a new dish. The seed of inspiration for escaping our well-worn dinner rut was a cute little crustacean called: shrimp. What?? No chicken or pasta? Blasphemy.
Between having moderately picky eaters and very little time to prepare meals, these days it feels like we're always eating leftovers of the same three or four meals: rice and dal, a little ditty I call anchovy pasta (linguine, garlic, anchovies, chili pepper, olive oil and spinach, laced with raisins… which is actually quite delicious), "tuna surprise" quinoa, and quiche(the kids request this at least weekly).
Make no mistake, I realize that these are probably pretty fancy dinners compared to what a lot of families eat, and we're incredibly lucky that we have food to eat at all. But, don't you ever feel a bit weary about the first-world problem of always eating the same thing?
The thought of cooking something novel sent a surge of adrenaline rushing through my veins! I dug out one of the three bags of jumbo frozen shrimp my husband had recently purchased (Yes. Three. Like a lot of other men I know, he's got a penchant for buying in bulk), and got to work with my trusty Cuisinart.
Knowing the children would vehemently protest, I concealed the bag of shrimp in the sink and began this quick, tasty, and nutritious meal.
Golden Shrimp Cakes with Zingy Tartar Aoli
Ingredients
16 – 10 extra large uncooked shrimp (de-veined & peeled)
1 large egg
1 green onion, sliced
1 tbsp yellow mustard
1 tbsp fresh cilantro, minced
1 small garlic clove, minced
½ tsp Frank's Red Hot Sauce (or other hot pepper sauce)
½ salt
pinch black pepper
2 cups dry breadcrumbs, made from seasoned croutons or Panko
2 tbsp grapeseed oil
Tips
It is ultra important that when you blend the ingredients in the food processor that you take care not to macerate the ingredients, thus destroying any ounce of texture. Keep the pulses short and quick.
The shrimp cakes can be prepared up until the point of frying several hours in advance; simply cover and refrigerate.
To cook the shrimp cakes, you'll probably have to do at least two batches, depending on the size of you pan; wipe the pan with paper towel and add fresh oil between batches.
If you don't have grapeseed oil, use canola, sunflower or peanut oil; these oils are suitable for use at higher temperatures (have high smoke points). Do not use virgin olive oil to fry at high temperatures; cooking olive oil at high temperatures may cause it to develop compounds that have been found to be carcinogenic in animal studies.
Directions
Roughly  chop shrimp in processor by quickly pulsing on and off two or three times.
Add egg, green onion, lemon juice, mustard, cilantro, garlic, hot pepper sauce, salt, and pepper into food processor bow; blend by pulsing two or three times. Take care not to macerate this mixture! You want to retain some texture.
Add 1 cup breadcrumbs; pulse once or twice to blend.
Using a heaping tablespoon of the mixture, form sixteen 2½-inch-diameter patties, rolling them each in the remaining breadcrumbs immediately after forming the patties. Set aside on a baking sheet lined with waxed paper.
Refrigerate 10 minutes.
Heat 2 tablespoons grapeseed oil in heavy large skillet over medium-high heat. Fry cakes 2 – 3 minutes per side, until cooked through and crispy and golden brown.
Serve with Zingy Tartar Aoli
Zingy Tartar Aoli
Ingredients
1 cup mayonnaise
1 tbsp capers, drained and minced
1 tbsp fresh cilantro, chopped
2 tbsp fresh lemon juice
½ tsp dried tarragon
½ Worcestershire sauce
½ Frank's Red Hot Sauce (or other hot pepper sauce)
 Directions
Whisk all ingredients in medium bowl; season with salt and pepper.
Cover and chill; use within two or three days.
you might also like.