raspberry coconut bars.
Posted in favorites, recipes, squares, sweet | 8 comments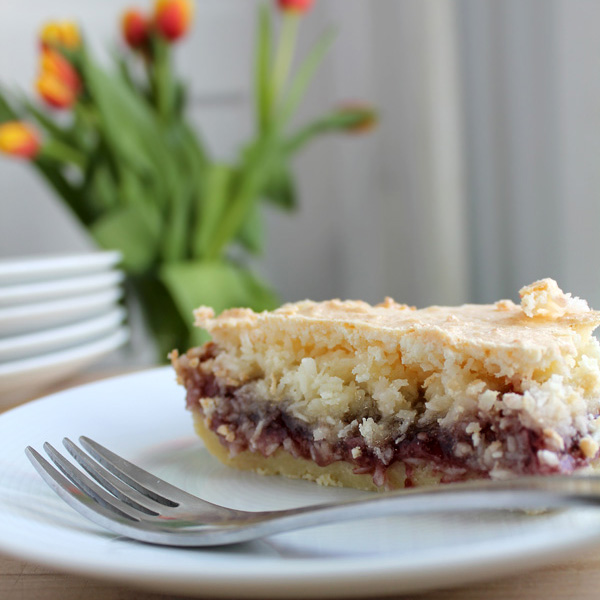 Is it awful that for Mother's Day this year all I wanted was a few hours completely to myself in which to bake delicious morsels and madly snap photographs of my sweet creations? It's not that I don't fully enjoy a rollicking day with the family, but (in my view) Mother's Day should be the one day a year that mamas get to do whatever they want: sleep until the sun is high in the sky, relish in a total lack of distraction… and focus on nurturing yourself, just for one day.
And yesterday, (Mother's Day) I was craving a sleep-in, a little bit of solitude to bake myself into a tizzy and snap oodles of photos of my tasty treats, and then spend the rest of the day with my girls and number one guy.
And that's exactly what I got: thanks babe.
In honor of Mother's Day, I've crafted a variation of a recipe found in an old, staple-bound church cookbook that my mother inherited from her mother; a cookbook lovingly compiled by a community of strong, devoted and talented Cape Breton mothers. The result? Buttery shortbread that meets the crimson zing of raspberry, all swathed in a chewy, coconut-crusted macaroon topping.
Raspberry Coconut Bars
Preheat oven to 350 degrees F
Ingredients
Bottom Layer
1 ¼ cups all-purpose flour
½ cup butter, softened
¼ cup granulated sugar
Filling
1 cup raspberry jam
Top Layer
2 eggs
1 cup granulated sugar
2 cups long thread coconut
½ tsp almond extract
½ baking powder
1 tbsp all-purpose flour
Directions
Bottom Layer
Combine all three top layer ingredients in a food processor or medium bowl; pulse (or mix) until the mixture is crumbly and resembles rough cornmeal.
Press mixture into an ungreased 9×9-inch pan; bake in preheated (350 degree F) oven for 15 minutes.
Remove from oven and set on cooling rack; leave the oven on, at temperature.
Filling
Dollop spoonfuls of jam all over the (baked) bottom layer; distribute roughly evenly and spread carefully.
Top Layer
In medium bowl, beat eggs until frothy using a hand- or standing mixer (or you can give your arms a workout and use a heavy duty whisk). Beat in sugar, coconut, almond extract, baking powder and flour; be sure to mix well.
Drop heaping spoonfuls of the topping evenly over the jam filling; spread delicately with a knife or spatula to fill in any gaps, being careful not to flip over any jam onto the top layer.
Bake in preheated (350 degree F) oven for 30 to 35 minutes until the topping is golden brown. Cool.
Cut into squares; the topping will crackle a bit when you cut them — no worries: just enjoy the mind-blowing taste.
you might also like.