golden cornbread.
Posted in breads, favorites, quick breads, recipes, savory | 0 comments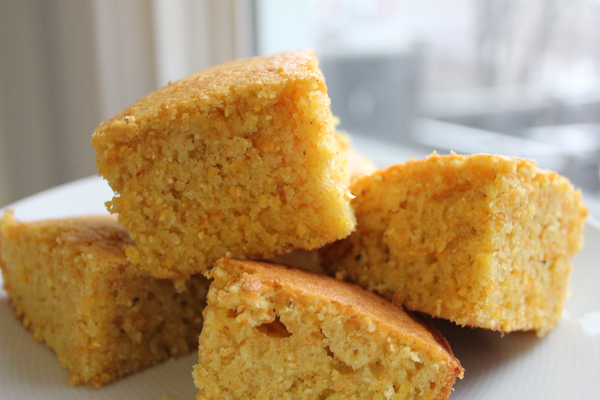 Hey folks. Sorry for the unseemly lack of posts; since I last posted I've stopped teaching fitness classes and started back to work full time (outside the home) and have been swamped with a daily routine of schlepping my eldest to school with the twins in tow, picking up the hubby each morning after he finishes teaching an early morning anatomy class, catapulting myself to the office, and then racing back home for dinner time, and collapsing after extracting my remaining drops of energy while kicking and punching my way through an hour of my mom's Turbo Jam DVDs (love it!!).
This is all to say that I've sadly had little time to glance at (never mind use) my trusty camera with which to document my increasingly infrequent baking adventures.
But I'm back.
And I'm resolving to carve out more time — at least one session a week — in which to lose myself, fusing together any number of concoctions of flour, sugar, eggs and other tasty ingredients into baked heavenly bliss… and to shunt a much needed outlet for my OCD/artistic tendencies, painstakingly documenting baking fervor with my much-neglected partners in crime: my camera and the sunlight with which I aim to capture the story of each sweet saga.
And to mark my reprisal in the role of Sweet Girl, I'm starting with something both sweet and savory: cornbread, made as the toothsome, sun-kissed accompaniment to a steamy, spicy batch of turkey chili.
Golden Cornbread
Preheat oven to 375 degrees F
Ingredients
½ cup unsalted butter
2/3 cup granulated sugar
2 eggs
1 cup buttermilk (or 1 cup milk + 1 tsp white vinegar)
½ tsp baking soda
1 cup cornmeal
1 cup all purpose flour
¾ tsp salt
Directions
Grease an 8-inch square pan.
If using milk and vinegar instead of buttermilk, combine milk with vinegar in a small bowl; set aside for at least 5 minutes.
Meanwhile, crack eggs into a small bowl, whisk lightly and set aside.
Melt butter in medium saucepan. Remove from heat and stir in sugar until it dissolves.
Quickly add eggs and beat furiously until blended.
In a small bowl, combine buttermilk (or milk-vinegar mixture) with baking soda; stir into mixture in saucepan.
Fold in cornmeal, flour, and salt until well blended and few lumps remain. Pour batter into the prepared pan.
Bake in the preheated (375 degrees F) oven for 30 to 40 minutes, or until a toothpick tenderly inserted in the middle comes out clean.
Let stand 5 – 10 minutes before slicing; serve warm.
you might also like.