chocolate peanut butter jammers.
Posted in baking, candy, cookies, recipes, sweet | 1 comment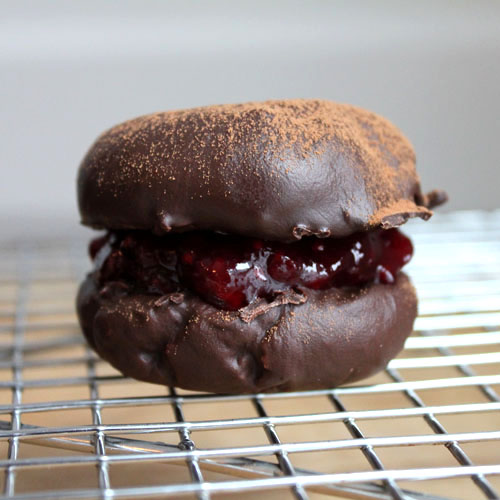 Peanut butter and chocolate: it's a match made in candyland heaven, no? Yes. Perhaps the simplest and most enduring commercial manifestation of this tasty pairing is in Reese's Peanut Butter Cups,  a peanut butter-filled chocolate candy created way back in 1928 by Harry Burnett Reese, a former dairy farmer and shipping foreman to Milton S. Hershey (yes, that Hershey).
And so it was while standing in the grocery store checkout aisle the other day that I spied Mr. Reese's orange-and-brown-packaged confection, and felt the urge to forge this favorite deuce of flavors into a cookie: chewy peanut butter cookies dunked in milk chocolate candy coating and an ultra intense dark chocolate glaze.
Not terribly avant garde, but definitely snack-worthy.
But something was missing.
Staring at the racks of beautifully glazed treats, I thought to myself, "What's missing? How can I amp up this cookie from a pleasant snack into a full-fledged, indulgent dessert?" And then it came to me; in three little letters, I knew how to complete the trifecta: J-A-M.
Chocolate Peanut Butter Jammers
Preheat oven to 350 degrees F
Cookie Ingredients
½ cup unsalted butter
1 cup brown sugar, lightly packed
1 cup peanut butter (smooth or crunchy)
1 egg
1 tsp vanilla
1 ½ cup all purpose flour
1½ tsp baking powder
¼ tsp baking soda
½ tsp salt
Dark Chocolate Glaze Ingredients
½ cup water
1/3 cup sugar
6 oz dark chocolate, chopped
2 tbsp honey
2 tbsp unsalted butter
2 tsp vanilla extract
Milk Chocolate Candy Coating
1 bag Wiltons Milk Chocolate Candy Melts
raspberry or strawberry jam
cacao powder and/or icing sugar for dusting
Tips
Of course, these cookies are perfectly delicious even without dipping them in chocolate — they're my go-to recipe peanut butter cookie recipe!
If using Wilton Candy Melts, follow directions on the package and dip according to the Dark Chocolate Glaze directions below.
Cookie Directions
Cream together butter and sugar in large mixing bowl; add peanut butter, mixing well.
Beat in egg and vanilla.
In separate bowl, whisk together flour, baking powder, baking soda and salt.
Gradually blend dry ingredients into butter mixture.
Shape dough into small (1¼-inch diameter) balls; place on parchment-lined baking sheets; flatten slightly with the bottom of a flat-bottomed (clean) glass or jar.
Bake cookies in preheated (350 degrees F) oven for 8-9 minutes, until lightly golden around edges, but still quite soft to the touch. Allow to cool and set on baking sheets for a few minutes, then transfer to wire racks to cool completely. Makes about 40 cookies.
Dark Chocolate Glaze Directions
Place wire racks over waxed paper.
In a double boiler (or medium saucepan) bring a couple of inches of water to boil;  in the top part of a double boiler (or a nonreactive metal bowl set over the boiling water) warm the water, sugar and chopped chocolate in a medium saucepan.
Add honey and bring to boiling; boil for 5 minutes, stirring once or twice.
Remove saucepan from the heat, add butter and vanilla extract.
Dip cookies into glaze using a fork or candy dipper.  Place dipped cookies on wire racks set over waxed paper. Let cool (or refrigerate) to set.
Assembly
Sandwich two glazed cookies together with a generous dollop of your favorite jam, dust lightly with cacao powder or icing sugar and serve!
Dark Chocolate Glaze Recipe Adapted From Brownie Points: Over 100 Outrageously Delicious and Easy Variations on North America's Favorite Dessert

Peanut Butter Cookie Recipe Adapted From Canadian Living Cookbook
1/2 cup (125 mL) coffee or water

1/3 cup (65 g) sugar

6 oz (160 g) bittersweet chocolate, chopped

2 tbsp (30 mL) corn syrup

2 tbsp (30 mL) butter

2 tsp (10 mL) coffee or vanilla extract
you might also like.