healthy (nut-free) granola bars.
Posted in baking, favorites, fruit, recipes, squares, sweet | 49 comments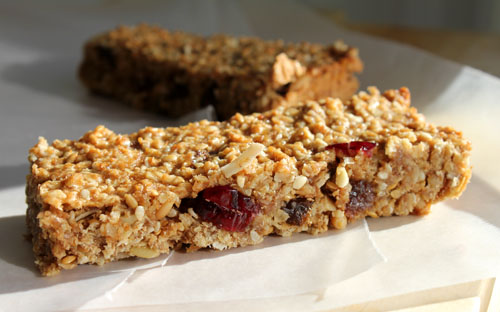 We're a few days into 2011, and it's back to the grindstone. After a season of ultra rich, fatty and sugary foods, and lots of festive cheer, most of us are ready to turn a perennial new leaf of increased activity and healthier foods. As a nod to these well-intentioned resolutions — and an inclination to bake some healthy, tasty, high fiber snacks for my family — I've whipped up a batch of these delicious, nut-free granola bars.
These granola bars can be school-safe (notoriously nut-free zones), and your kids and fiber-phobes will never suspect that they're actually nutritious, acting as a good source of fiber, protein, and vitamins and minerals including  vitamin E, folate, phosphorus, potassium, thiamin, zinc, magnesium, iron, and even calcium (if you use sesame seeds). These granola bars are a particularly excellent choice as a pre- or post-workout snack, to help you fuel-up or re-fuel after a grueling fit of fitness; they'll deliver the protein, complex carbs and other nutrients your body needs to sustain your new (or ongoing) resolutions to exercise and get in shape.
And of course, these granola bars are also completely void of corn syrup, palm oil, and all the unpronounceable additives included in many of the store-bought granola bars.
Healthy (Nut-Free) Granola Bars
Preheat oven to 350 degrees F
Ingredients
2 cups rolled oats
½ cup brown sugar, lightly packed
¼ cup wheat germ
¼ cup whole flax seeds
¼ cup dried unsweetened coconut
1 tsp cinnamon
1 cup whole wheat flour
½ cup raisins
¼ cup dried cranberries
2 tbsp sunflower seeds, hulled
2 tbsp pumpkin seeds
¾ tsp sea salt
½ cup honey
1 egg, beaten
1/3 cup melted butter
1/3 cup mashed ripe banana
2 tsp vanilla extract
Tips & Substitutions

You may wish to add to the baking time if you prefer a less chewy and more crunchy granola bar; I like mine chewy and moist, and after experimenting several times have settled upon a baking time of 24 minutes for the perfect, chewy granola bar. This time will also, of course, depend on your individual oven, so if you also are a lover of chewy granola bars keep watch from about the 20 minute mark to make sure they're not over-baking and drying out.
Go ahead and substitute equal amounts of "goody" ingredients for whichever you prefer, such as:

Carob or chocolate chips, chopped dried apricot, or dried blueberries for dried cranberries;
Sesame seeds for sunflower seeds;
Chia seeds for flax;
Applesauce for mashed banana;
Melted coconut oil for melted butter;
Substitute some of the rolled oats with puffed rice or kamut for a little more of a crunchy texture

Directions

Grease a 9×13-inch baking pan.
In large bowl, combine oats, brown sugar, wheat germ, flax, cinnamon, flour, raisins, dried cranberries, sunflower and pumpkin seeds, and salt; mix and form a well in the center.
In medium bowl, whisk together honey, egg, melted butter, banana and vanilla.
Pour honey mixture into the well created by the dry ingredients in large bowl; mix well.
Lightly grease a fork or your hands and fingers with butter, then pat down the granola bar dough evenly into the pan.
Bake in preheated oven (350 degrees F) for 24 minutes for chewy bars; you may need more or less time depending on your oven and how chewy you like your granola bars.
Cool in pan for 5 minutes. While still warm, cut into bars or squares of whatever size you desire; makes 16 "granola bar-sized" bars.
you might also like.