sticky cinnamon rolls.
Posted in baking, breads, candy, favorites, recipes, sweet, yeast breads | 6 comments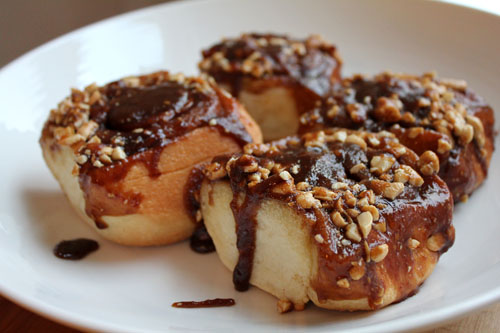 My infatuation with cinnamon rolls began in high school. I am a little ashamed to admit that instead of a wholesome, nourishing meal, at lunchtime I would instead shell out $1.50 to the high school cafeteria for one of their home-baked (or I guess it would be "school-baked") cinnamon rolls. They were simple enough: warm and doughy, chewy and sweet, drizzled with a thick, white, sugary frosting, and — as one might expect — cinnamony.
But a diet of cinnamon rolls and frosting alone soon cloys, and I left behind my daily lunch-hour indulgence upon graduation. That is not to say that I swore off cinnamon rolls altogether…
As I matured and explored the world of cinnamon rolls beyond the cafeteria of Dartmouth High School, I came to know and love the Halifamous cinnamon rolls of Mary's Bread Basket in Halifax's Brewery Market, originated by Mary Mohammed, who first opened her Brewery-based bakery in the 1980s around the same time that my parents opened their restaurant (Desserts Plus), also in the Brewery Market. As I type this, I suspect that I must have encountered these gargantuan, glazed cinnamon rolls at some point during my childhood days spent frolicking in the kitchen of the restaurant… but, alas, I cannot recall tasting this spicy and nectarous treat until my university days, when I would make a special trip once or twice a month to enjoy Mary's most popular confection. Yum.
So when I set out to try my hand at making cinnamon rolls, it was with these classic, straight-up cinnamon rolls in mind: yeast-based dough rolled with cinnamon sugar, sliced, baked and well-coated with a saccharine glaze. But as I researched recipes, I came to discover a whole new world of cinnamon rolls. One where sticky buns fuse with cinnamon rolls and toffee, and are endowed with the texture of a nutty crunch.
Oh my, what a treat. Best enjoyed while still warm, fresh out of the oven, these sticky cinnamon rolls are my new favorite… at least for now.
Sticky Cinnamon Rolls
Ingredients
1 tsp sugar
2¼ tsp instant yeast (1 package)
½ cup warm water (110 degrees F)
½ cup milk
¼ cup heavy cream
¼ cup sugar
¼ cup unsalted butter
1 tsp salt
2 eggs, beaten
4 cups all purpose flour
¾ cup unsalted butter
¾ cup brown sugar, lightly packed
1 cup unsalted cashews, coarsely smashed and divided in 2 equal portions
¾ brown sugar, lightly packed
1 tbsp cinnamon
¼ cup unsalted butter, melted
pinch salt
canola oil for greasing bowl and baking dish
9×13 inch baking dish, greased
Tips
If after mixing the dough you find that yours is either a little too wet or (less likely) a little too dry, add additional teaspoons of flour or cream, respectively, mixing well between each addition until you get a moist, yet not sticky dough.
You may cut cinnamon rolls with a good, sharp, serrated knife, or alternatively you can "snip" the dough into individual rolls using a strong thread; for this method, slide the thread under the roll to the point you wish to cut the roll. Then cross the thread over the pastry; hold each end of the thread firmly, and quickly pull your hands (and either end of the crossed thread) away from each other. This will pinch off the dough into a cleanly cut roll, without any knife clean-up required. I used both methods in this recipe; both worked equally well and I didn't find that there was too much of an issue with a sticky or messy blade using the knife method, so use whichever you prefer.
Preparing Dough Directions
In small bowl, dissolve yeast and 1 tsp sugar. Set aside for 10 minutes, until creamy.
Meanwhile, warm milk and cream in small saucepan just until it bubbles, but does not boil; remove from heat; add in ¼ cup sugar, ¼ cup butter and salt, stirring until melted — do not boil. Allow to cool until lukewarm (so as not to kill the yeast when the mixture is added to the yeast in the next step)
In large mixing bowl of standing mixer with paddle attachment in place, combine yeast mixture, milk mixture, and beaten eggs. Add 1½ cups of flour; mix well to combine.
Add in remaining 2½ cups of flour, ½ cup at a time, mixing well after each addition.
When dough clumps together, either  knead by hand on lightly floured board for roughly 8 minutes, until smooth and elastic; or switch mixer to the dough hook attachment if you have one and mix on a medium speed for 3 or 4 minutes until the dough is smooth, pliable and sticks on the dough hook.
Place dough in a lightly-oiled large bowl; turn it to coat with oil and cover with plastic wrap or a damp tea towel. Let rise in a warm place for about 1 hour, until doubled in volume.
Cinnamon Filling & Toffee Topping Directions
Meanwhile, melt ¾ cup butter in small saucepan over medium heat; stir in ¾ cup brown sugar, whisking to dissolve sugar completely.
Pour into prepared 9×13-inch baking dish and sprinkle with ½ cup cashews; set aside.
Melt remaining ¼ cup butter; set aside.
Combine remaining ¾ cup brown sugar, ½ cup cashews, cinnamon and salt; set aside.
Assembly Directions
Place dough on a lightly floured board; roll into an 18×14-inch rectangle, ¼-inch thick.
Brush dough evenly with 2 tbsp melted butter, leaving  ½-inch bordrer unbuttered; sprinkle evenly with cinnamon-nut-sugar mixture; using your rolling pin, gently roll over the cinnamon-nut-sugar mixture, lightly pressing it into the dough.
Working at the long side of the dough rectangle, fold over only ½-inch of dough and pinch down.
Now begin rolling from one corner, along to the middle, to the opposite corner, and then work your way back; curve corners toward the center (to avoid too much waste at the ends). Continue rolling tightly in this fashion, being careful not to tear the dough.
When finished rolling, pinch the seam and brush with remaining 2 tbsp melted butter.
Cut roll into 15 pieces (either with a serrated knife or using the thread-cutting method).
Place rolls cut side down in prepared pan on top of toffee-cashew topping; cover and let rise in a warm place for 1 hour, until doubled in volume.
Baking & Serving Directions
Preheat oven to 375 degrees F.
Bake in preheated oven for 25 to 30 minutes, until golden brown.
Let cool in pan for 3 minutes, then invert onto  serving platter by placing platter on top of baking dish, pressing the two tightly together, and then quickly flipping over.
The toffee with ooze down into the cinnamon rolls and onto the serving plate; scrape toffee or nuts remaining in baking dish onto the rolls (or, be naughty and eat them with a spoon).
Serve sticky cinnamon rolls while warm.
Recipe Adapted From: AllRecipes.com
you might also like.