dutch apple pie.
Posted in baking, favorites, fruit, fruit desserts, holiday, pies & tarts, recipes, sweet | 1 comment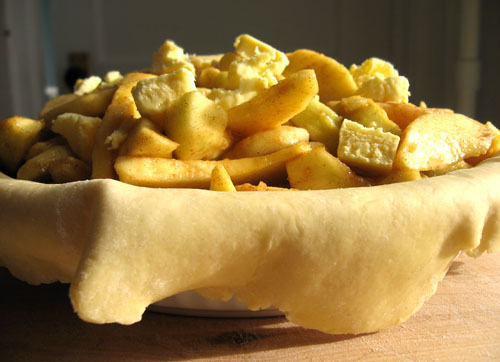 What could be more classically festive than apple pie? Simple, homey and ultra delicious, apple pie is a family favorite, a dessert fancied by all family members — from the blithe toddler to the merry great grandparents, everyone will be angling for a slice of this luscious Dutch apple pie.
Busy baking myself into a tizzy in the days leading up to Christmas — in which I actually used up the massive quantities of flour, sugar and butter on which I had stocked up in anticipation of the ensuing torrent of holiday baking —  I remembered that I was charged with bringing the dessert to the Christmas Eve potluck at my sister-in-law's home, just hours before we were meant to leave.
With scarcely any flour left in the house, a couple of sticks of butter, and just a few odd-ball apples of miscellaneous varieties kicking around, apple pie seemed the perfect solution to our contribution the to holiday meal. Always wanting to add a special flair to any dessert begotten from my kitchen, I grabbed the lonesome lime, employed the heavy cream, and used up the last knob of butter for a richer, more full-bodied apple pie with a little extra oomph.

Dutch Apple Pie
Ingredients
2x recipe for Flaky Pie Crust: pastry for bottom crust fitted into a 9-inch pie plate; pastry for top crust rolled out onto a rimless baking sheet or board, both covered and refrigerated
¼ cup brown sugar
1/3 cup sugar, plus extra for sprinkling on top of pie
½ tsp cinnamon
1/8 tsp ground nutmeg
pinch of salt
3 tbsp tapioca starch (also called tapioca flour)
5 or 6 McIntosh, Honeycrisp and/or other apples suitable for baking
1 tbsp freshly squeezed lime juice
2 tbsp unsalted butter, cut into bits
½ cup heavy cream
milk, for brushing top pastry prior to baking
Tips & Substitutions
Using a combination of different varieties of apples can produce a more interesting pie with pleasantly complex flavors and textures.
If you don't have a lime, go ahead and substitute (the standard) lemon juice, or even white vinegar.
If you don't have tapioca starch, you may substitute 2 tbsp cornstarch for the 3 tbsp of tapioca flour.
Directions
In large bowl, whisk together the brown and granulated sugars, cinnamon, nutmeg, salt and tapioca starch.
Peel and core apples, and slice into ½-inch-thick slices; toss apples and lime juice with sugar mixture in large bowl.
Remove rolled-out bottom pastry (in pie pan) and top crust (on baking sheet) from refrigerator; pile spiced apple slices into bottom crust, making a slightly "conical" heap with the pile a little higher in the middle than at the sides.
Dot apples with bits of butter; cover with top crust.
Trim top and bottom crusts to extend an inch beyond the pie plate; tuck under and inside the pan; crimp the edges with your fingers, knuckles or a fork.
Put the pie into the fridge while you preheat the oven to 450 degrees F.
When oven has reached temperature, remove pie from fridge, place on a baking sheet.
Cut a large circular vent hole in the middle of the pie using a sharp paring knife to allow steam to escape and to provide an opening in which to pour the cream; you may also cut 4 additional 1-inch long slits around the central vent.
Brush the top lightly with milk using a pastry brush; sprinkle with sugar.
Bake pie in preheated (450 degree F oven) for 10 minutes.
Reduce oven temperature to 350 degrees F; bake for another 20 minutes and then remove from oven and pour cream into the pie via the large vent hole in the top crust.

Continue baking pie for another 10 to 20 minutes, or until apples are bubbling and the pie is golden brown — do not underbake! What a shame it would be to go through the steps of baking a delectable Dutch apple pie only to have undercooked apples inside. I'm sure you can do the math, but the total baking time is 40 to 50 minutes.
Cool slightly on wire rack before serving; best served warm or at room temperature.
Refrigerate any leftovers… but I'm sure there won't be any.
Recipe Adapted From: How To Cook Everything: Simple Recipes for Great Food
you might also like.