s'more boys.
Posted in baking, candy, cookies, favorites, holiday, recipes, sweet | 9 comments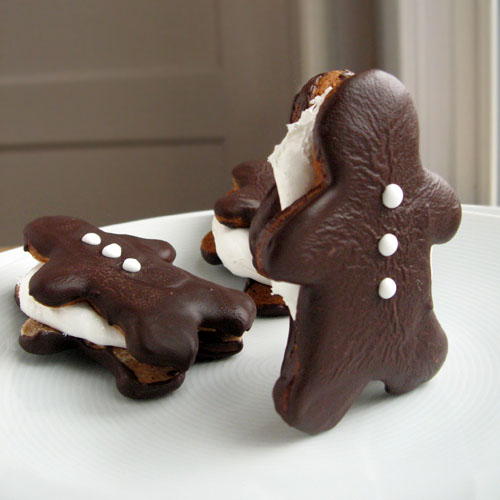 That's right: s'mores in December. My inspiration for this confection came from a holiday special called Gingerbread S'More Boys, made by Two Hearts Bakery in San Francisco for Williams-Sonoma online. I've never actually tasted the Two Hearts Bakery variety, but was excited to try my hand at whipping up a kitchen made version of my own.
Not, in fact, made of gingerbread, these boys are a tasty compilation of the classic trifecta of flavors from the campfire s'mores you remember and love from your childhood: graham crackers, marshmallow, and chocolate. In my festive interpretation, the graham crackers are home made, double-dipped in a dark chocolate candy coating, and sandwiched together with an ooey, gooey, super sticky, finger-licking sweet honey-marshmallow fluff frosting. All that's missing is the campfire.
Oh, you could scorch these s'more boys with a blow torch or roast the little lads over the hearth fires, but that seems a little macabre and contrary to the good will of the season… On the other hand, I suppose a quick flash of the kitchen blow torch is in order in the name of authenticity, no?
Unlike the standard s'more, which uses a single marshmallow instead of marshmallow frosting, these s'more boys are messy and gooey whether or not you choose to toast them, since  the marshmallow frosting fluff tends to ooze when left at room temperature for any amount of time. This is all to say that this is a dessert you'll want to serve immediately upon assembly. As with the s'mores of your youth (or last summer), this treat is not about being picture perfect; s'mores are supposed to be a little bit sloppy and exquisitely delicious in their simplicity.
In the spirit of good times and festive gatherings, go ahead and sandwich the s'more boys together in front of your guests — or better yet, remember that the joy of this childhood favorite is in the preparation: have your friends participate by providing each of them with their own decorated and chocolate-dipped graham cracker boys as well as their own personal-sized bowl of marshmallow fluff and spatula or butter knife. Pass around the blow torch (or fondue burner) and have fun!
S'More Boys
Graham Crackers Ingredients
2½ cups plus 2 tbsp all purpose flour
1 cup dark brown sugar, lightly packed
1 tsp baking soda
½ tsp cinnamon
¾ tsp salt
7 tbsp unsalted butter, cut into 1-inch cubes and frozen
1/3 cup honey
5 tbsp whole milk
2 tbsp vanilla extract
gingerbread boy (or other) cookie cutter
Marshmallow Fluff Frosting Ingredients
2 egg whites
½ cup sugar
¼ cup honey
1 tbsp water
1½ tsp vanilla extract
pinch of salt
1 bag Wilton Dark Cocoa Candy Melts
Royal Icing for piping buttons, etc.
Tips
This is not a dessert you're going to whip up in between first and second course; make the graham crackers (and chocolate-dip them) at least a day in advance and store the dipped "boys" until ready to assemble; prepare the marshmallow fluff frosting the day of.
If you're in a pinch — and are missing either the time, ingredients or inclination to make your own fluff — you can go ahead and use the store-bought jar of Marshmallow Fluff. I won't judge you.
Graham Crackers Directions
In the bowl of an electric mixer fitted with the paddle attachment (or in the bowl of a food processor fitted with the metal blade) combine flour, brown sugar, baking soda, cinnamon and salt by pulsing or mixing on low-speed.
Add frozen butter cubes, and mix (or pulse) until the mixture resembles a coarse meal.
In a small bowl, whisk together honey, milk and vanilla. Add to dry ingredients; mix on low (or pulse a few times) until a roughly cohesive dough forms.
Turn dough onto a lightly floured board, pat into a rectangle 1-inch thick; wrap in plastic wrap and chill until firm — about 2 hours to overnight.
Line a baking sheet with parchment paper and sift an even, light layer of flour onto board.
Divide dough in half; return 1 portion to the refrigerator and roll the other portion into a long rectangle, 1/8-inch thick. Flour as necessary to more easily handle sticky dough.
Cut out shapes and quickly remove crackers to parchment lined baking sheet using spatula. Gather together scraps into a ball, wrap in plastic and set aside in refrigerator.
Cover and chill crackers (on baking sheet) until firm — about 30 to 45 minutes.
Repeat with second batch of dough; then repeat with chilled scraps.
Adjust oven rack to upper and lower positions; preheat oven to 350 degrees F.
Bake for 20-25 minutes (depending on the  size of your crackers), until starting to brown and slightly firm to the touch, rotating baking sheets halfway through to prevent uneven baking.
Cool completely; makes about 40 crackers.
Marshmallow Frosting Fluff Directions
Combine all ingredients in metal bowl placed over a saucepan of simmering water; be sure that the boiling water does not touch the bottom of the bowl, as your fluff could become grainy.
Beat with a hand mixer at high-speed until fluff is thick and fluffy; about 7 minutes
Remove bowl from heat; continue to beat until slightly cooled. Cool completely.
If not using right away, refrigerate until ready, and re-beat to soften when ready to assemble s'more boys. Use frosting the day it is made.
Candy Chocolate Coating Directions
Melt Wilton Candy Melts using double-boiler method or microwave according to package instructions.
Dip graham crackers once; let cool and harden on wire rack placed on waxed paper. Repeat.
When totally hardened (at least 45 minutes) store in single layer in an air-tight container until ready to use.
S'More Boy Assembly
Pipe or spread a generous dollop marshmallow frosting fluff along the inside length of a candy-dipped cracker; sandwich another dipped cracker lightly on top (being careful not to squeeze the filling out).
Pipe buttons or other accessories, faces (etc) onto your "boys" and enjoy!
Sources:
Graham Cracker recipe adapted from 101 Cookbooks
Concept inspired by Two Hearts Bakery Gingerbread Boy S'Mores
6 tsp meringue powder
6 tbsp warm water
2 cups honey
1/2 tsp salt
4 cups icing sugar (1 1kg bag)
1 tsp crea of tartar
1 tbsp vanilla extract
you might also like.