pumpkin fusion muffins.
Posted in baking, breads, fruit, fruit desserts, muffins, quick breads, recipes, sweet | 0 comments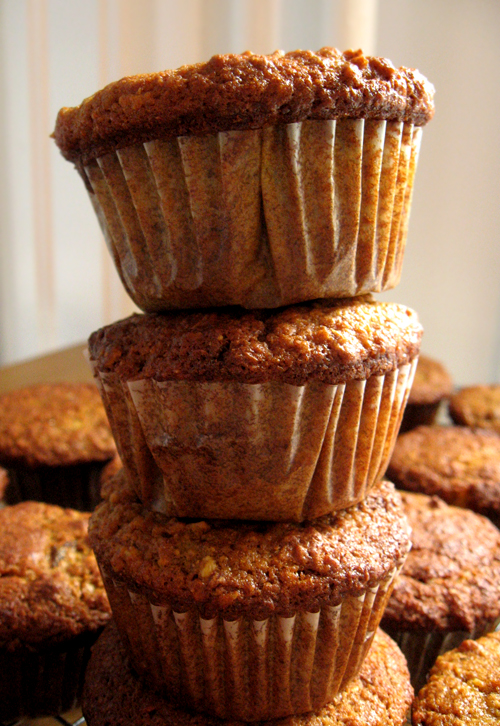 Okay, so I had to use up the last of a seemingly endless supply of pumpkin puree, created from one modest "pie" pumpkin, one soft pear, and half of very ripe banana. Yet another case of necessity giving rise to invention; and muffins seemed like just the ticket to fill the order: portable, moist, healthy and flavor-packed.
As a mommy of three — and partner to a man with a healthy appetite — I've learned to cook and bake in family-sized batches, so that I am not permanently tethered to the stove. This recipe makes 24 standard sized muffins; they keep well in an air-tight container (at room temperature) for a few days, and also freeze well, but if you'd rather not have so many muffins kicking around go ahead and half the recipe.
So let's get down to it.
Pumpkin Fusion Muffins
Preheat oven to 400 degrees F and place rack in the middle of the oven
Ingredients
1 cup pumpkin purée (fresh or canned, unspiced)
½ cup pear purée
½ cup banana, mashed
4 eggs, lightly beaten
1 cup buttermilk
1 cup butter, melted
1½ cups whole wheat flour
1½ cups wheat germ
1½ cups brown sugar, packed
2 tsp baking powder
2 tsp baking soda
3 tsp cinnamon
1 tsp sea salt
1 cup raisins
1 cup pecans, smashed
2 standard sized muffin pans
24 standard sized paper muffin cups
Tips & Substitutions
Go ahead and substitute applesauce for the pear purée or even sub in sweet potato purée for the pumpkin — it's all about using flavorful ingredients that you have on-hand to create a moist, yummy muffin.
If you don't have buttermilk, make your own or substitute equal amounts of plain yogurt.
If you don't have two muffin pans, do the obvious and reuse the same pan once the first batch of muffins have cooled enough to remove to a wire rack.
If you don't have paper muffin cups with which to line the pan cups, grease them with non-stick vegetable oil spray (non-flavored, like canola oil)
Muffins freeze beautifully; once they've cooled fully just pop them into an air-tight, freezer-proof container or zip lock bag and then into the freezer. When you're ready to eat them, simply thaw at room temperature.
Directions
In medium bowl, mix together pumpkin and pear purées, mashed banana, eggs, buttermilk and melted butter. Set aside.
In large mixing bowl, combine flour, wheat germ, brown sugar, baking powder, baking soda, cinnamon and salt.
Add pumpkin mixture to dry ingredients; stir just until combined — it will be lumpy. Do not overmix the batter or the muffins will be tough as bullets!
Fill muffin cups using a ¼ cup measuring spoon or ice cream scoop.
Bake in preheated (400 degree F) oven for 18-20 minutes, until firm to touch or a toothpick inserted into center of muffin comes out clean.
Remove from oven and cool in pan for 5 minutes; finish cooling on a wire rack. Makes 24 regular sized muffins.
you might also like.