flaky pie crust.
Posted in baking, basics, favorites, pies & tarts, recipes, savory, sweet | 4 comments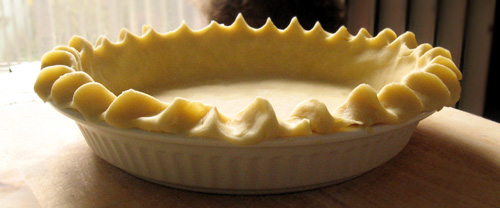 This pie crust recipe can be used for both sweet and savory pies, with a little sugar added to the pastry for sweet or dessert pies or tarts — this adds a little extra flavor and helps the crust brown. Keep at least a couple batches on hand in the freezer for the inevitable pie emergency.
Flaky Pie Crust
Ingredients for a Single Pastry Crust

1 1/8 cups all purpose flour, plus some for dusting work surface
½ tsp salt
1 tsp sugar (for sweet pies only)
8 tbsp cold unsalted butter, cut into 8 chunks
3 tbsp ice water, plus more if necessary
1 8-10-inch pie dish or tart pan
Tips
Double recipe to make enough pastry for a two-crust pie and divide dough evenly between top and bottom crusts.
Flute pie edges by pinching the dough between the side of your forefinger and thumb; pressing a knuckle from one side into the space made by your thumb and forefinger on the other side; or simply by pressing down the tines of a fork along the edges of the dough.
Directions
Combine flour and salt in food processor; pulse once or twice. (Whisk together if you haven't got a food processor)
Add butter and turn on machine, processing about 10 seconds or until the butter and flour are blended and the mixture resembles cornmeal. No food processor? No problem: use a fork, two knives or pastry cutter in this step.
Place mixture into a bowl and sprinkle with 3 tbsp of ice water.
Use a wooden spoon to gradually gather the mixture into a ball; if the mixture seems too dry, add another ½ tbsp ice water and mix until you can gather into a ball with your hands.
Wrap ball of dough in plastic wrap, flatten into a disk and place in freezer for 10 minutes (or 30 minutes in fridge) to ease rolling. At this point you could also refrigerate the dough for a day or two, or freeze it almost indefinitely.
Unwrap dough, lightly sprinkle its top with flour and roll out onto a lightly floured board or countertop; if the dough is too hard, let it sit for a minute or two (it should give a little when you press your fingers into it).
Roll with light pressure from the center out, adding small amounts of flour as necessary, rotating the dough occasionally and flipping it over once or twice during the process. Ragged edges of dough may be used to repair any tears, adding a drop of water while you press the patch into place.
When the dough is about 10 inches in diameter (and less than ¼ inch thick), place your pie or tart pan upside-down over it to check for size; the dough should extend at least 1 inch past the edges of the pan.
Move the dough to the plate by draping it over the rolling pin or by folding it into quarters, then moving it to the pie dish and unfolding it.
Once dough is draped over pie dish, press it firmly into the bottom, sides and junction of the bottom of the sides of the pan. Do not pull the dough to fit, otherwise you'll get shrinkage in the finished pastry.
Trim excess dough to about ½ inch all around and tuck it under itself around the edge of the pie dish or tart pan. If you're using a pie dish for a single crusted pie (and not a tart pan with a removable base) go ahead and decorate the edges with a fork or flute the edges of the dough using your fingers or knuckles.
Freeze the dough for 10 minutes or pop it in the fridge for 30 minutes.
When you're ready to bake, remove from freezer and prick pastry all over with a fork.
Blind-Baked (or Prebaked) Crust (for Pies with Liquid or Custard Fillings)
Blind baking or prebaking is the solution to preventing soggy, misshapen crusts in liquid-filled pies.
Preheat oven to 425 degrees F
Continue from Step 13 above.
Tear off a large piece of foil large enough to cover the entire crust when folded in half; fold it and smear unsalted butter on one side of foil then press it into the crust.
Weigh the foil with a pile of dried beans, rice or barley (I keep some on hand solely for this purpose), pie weights, or a tight-fitting skillet — you can use anything that is oven-proof and will sit flat on the surface.
Bake in preheated (425 degrees F) for 12 minutes.
Remove from oven  and reduce temperature to 350 degrees F; carefully remove pie weights and foil.
Bake another 10-15 minutes or until the crust is a lovely golden brown.
Remove crust  (still in in pan) to wire rack.
Fill and bake according to pie recipe instructions.
you might also like.