spinach & prosciutto quiche.
Posted in baking, pies & tarts, recipes, savory | 1 comment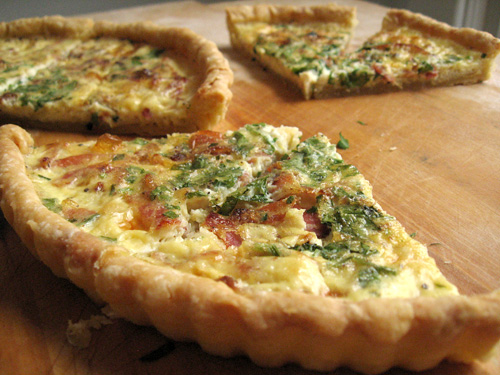 Although I'm not a huge fan of egg dishes, quiche is one of my favorite meals which works well for brunch, lunch or dinner, served with a light side salad or on its own. And quiche can be prepared up to a day ahead, reheated, or even served at room temperature.
Although this savory open-faced pie seems a bit fancy, it is actually quite rustic in its German and French origins, and in its simplest form all you really need for a delicious quiche is a blind-baked unsweetened pie or tart crust, eggs, milk or cream, and cheese (and even that is optional in a pinch). This recipe takes the flavor to the next level with the addition of prosciutto (dry-cured Italian ham) and spinach.
Yes, all that is super… But the real reason I love this particular quiche so much? My toddlers (all three of them) gobble it up gleefully, without the slightest inkling that they're consuming heaps of protein, veggies, vitamins, omegas, and calcium.
Did you know that quiche — world renowned as a classically French dish — actually originated in Medieval Germany, and that the word quiche is derived from the word kuchen, for "cake", which was first altered to küche, then kische? To that I say, "Let them eat quiche!"
Spinach & Proscuitto Quiche
Preheat oven to 425 degrees F (for blind baking pastry)
Single Tart Shell Ingredients
1 1/8 cups all purpose flour, plus some for dusting work surface
½ tsp salt
8 tbsp cold unsalted butter, cut into 8 chunks
3 tbsp ice water, plus more if necessary
1 10-inch tart pan or 9-inch pie dish
Quiche Filling Ingredients
¼ lb prosciutto
5 oz fresh spinach
¾ cup grated Cheddar or Gruyère cheese
2 eggs
1 cup light or whipping cream
½ tsp salt
pinch fresh cracked pepper
pinch nutmeg
Tips
While crust is blind baking, prepare the quiche filling.
Like any custard, quiche filling should be cooked gently so that it becomes creamy and light, rather than hard and clumpy. To achieve a smooth and feathery quiche, we "blind bake" (prebake) the crust at a high temperature (for a crisp crust) and then fill and return the pastry to the oven to cook the egg filling slowly at a lower temperature.
Steps 14 through 19 are when we blind bake the crust; they are the solution to preventing soggy, misshapen crusts in liquid-filled pies.
You may substitute equal amounts of frozen for fresh spinach; if doing so, simply defrost, drain and chop the spinach — you needn't sautée it.
If you can't find prosciutto, sub in pancetta or ordinary American bacon.
Tart Directions
Combine flour and salt in food processor; pulse once or twice. (Whisk together if you haven't got a food processor)
Add butter and turn on machine, processing about 10 seconds or until the butter and flour are blended and the mixture resembles cornmeal. No food processor? No problem: use a fork, two knives or pastry cutter in this step.
Place mixture into a bowl and sprinkle with 3 tbsp of ice water.
Use a wooden spoon to gradually gather the mixture into a ball; if the mixture seems too dry, add another ½ tbsp ice water and mix until you can gather into a ball with your hands.
Wrap ball of dough in plastic wrap, flatten into a disk and place in freezer for 10 minutes (or 30 minutes in fridge) to ease rolling. At this point you could also refrigerate the dough for a day or two, or freeze it almost indefinitely.
Unwrap dough, lightly sprinkle its top with flour and roll out onto a lightly floured board or countertop; if the dough is too hard, let it sit for a minute or two (it should give a little when you press your fingers into it).
Roll with light pressure from the center out, adding small amounts of flour as necessary, rotating the dough occasionally and flipping it over once or twice during the process. Ragged edges of dough may be used to repair any tears, adding a drop of water while you press the patch into place.
When the dough is about 10 inches in diameter (and less than ¼ inch thick), place your pie or tart pan upside-down over it to check for size; the dough should extend at least 1 inch past the edges of the pan.
Move the dough to the plate by draping it over the rolling pin or by folding it into quarters, then moving it to the pie dish and unfolding it.
Once dough is draped over pie dish, press it firmly into the bottom, sides and junction of the bottom of the sides of the pan. Do not pull the dough to fit, otherwise you'll get shrinkage in the finished pastry.
Trim excess dough to about ½ inch all around and tuck it under itself around the edge of the pie dish or tart pan. If you're using a pie dish (and not a tart pan with a removable base) go ahead and decorate the edges with a fork or flute the edges of the dough using your fingers or knuckles.
Freeze the dough for 10 minutes or pop it in the fridge for 30 minutes.
Remove from freezer and prick pastry all over with a fork.
Tear off a large piece of foil large enough to cover the entire crust when folded in half; fold it and smear butter on one side of foil then press it into the crust.
Weigh the foil with a pile of dried beans, rice or barley (I keep some on hand solely for this purpose), pie weights, or a tight-fitting skillet — you can use anything that is oven-proof and will sit flat on the surface.
Bake in preheated (425 degrees F) for 12 minutes.
Remove from oven  and reduce temperature to 350 degrees F; carefully remove pie weights and foil.
Bake another 10-15 minutes or until the crust is a lovely golden brown.
Remove crust  (still in in pan) to wire rack.
Filling Directions
Cut prosciutto into pieces and fry on low heat until cooked, but not crunchy. Set aside.
Sautée spinach on medium low heat, drain liquid and chop roughly.
Sprinkle cooked prosciutto, spinach and cheese over baked tart shell.
Whisk eggs, then whisk in cream, salt, pepper, and nutmeg. Pour into tart shell.
Bake in preheated (375 degree F) oven for 30-40 minutes or until a knife inserted in center comes out clean.
Let stand 5 minutes before serving.
you might also like.