cranberry-studded pumpkin scones.
Posted in baking, breads, favorites, quick breads, recipes, sweet | 4 comments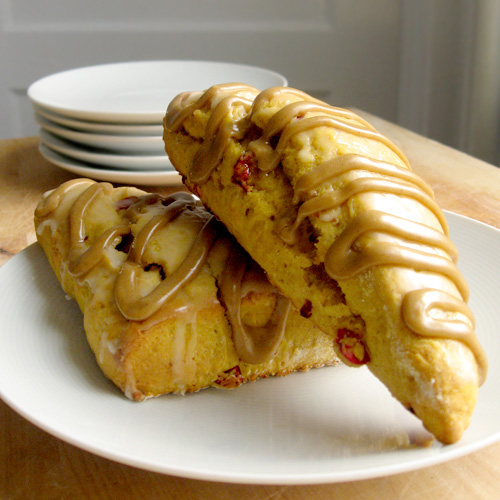 Save yourself three bucks and a trip to Starbucks, and instead invite some friends over for coffee at your house and serve up these outstandingly delicious cranberry-studded pumpkin scones using this recipe, modeled very closely after the exquisite (and hugely popular) pastry served up at your "local neighborhood Starbucks" (although I do believe that is, in fact, an oxymoron).
Extremely quick and easy to make, these cranberry-studded pumpkin scones are the perfect solution for any extra (uncarved) pumpkins you have kicking around your house from Halloween… or cans of unspiced pumpkin purée for that matter.
These scones scream "festive," from Canadian Thanksgiving through Halloween to American Thanksgiving through to your December holiday(s) of choice. They will fill your home with the type of intoxicatingly homey and warm cozy aroma that votive candles are named after. And the mildly sweet spiced pumpkin pastry speckled with occasional dots of cranberry tartness will titillate your tastebuds and curl your lips into a satisfied smile.
Cranberry-Studded Pumpkin Scones
Preheat oven to 425 degrees F
Scone Ingredients
1½ cups all purpose flour
1 cup pastry flour
10 tbsp sugar
1 tbsp baking powder
½ tsp salt
½ tsp ground cinnamon
½ tsp ground nutmeg
¼ tsp ground allspice
¼ tsp ground ginger
6 tbsp cold butter
½ cup fresh cranberries, roughly chopped
½ cup pumpkin purée
3 tbsp half-and-half
1 egg
Icing Sugar Glaze
1 cup icing sugar, plus 1 tbsp
2 tbsp whole milk
Spiced Icing
1 cup icing sugar
2 tbsp blackstrap molasses
2 tbsp whole milk
¼ tsp cinnamon
1/8 tsp nutmeg
1 pinch ginger
1 pinch allspice
Tips & Substitutions

If you're not keen on fresh cranberries, or don't have access to fresh ones, you could always substitute in an equal amount of dried cranberries or raisins, and reduce the amount of sugar in the recipe by 3 tbsp.
Go ahead and substitute brown sugar for granulated sugar if you wish.
You may have noticed that sometimes a batch of scones will turn out perfect, other times too dry, and other times too sticky, even when you follow the same recipe? This is because flour absorbs different amounts of liquid depending on the weather (humidity) or its freshness. If you find that your dough is little too sticky or dry, try adding a little more flour or half-and-half, respectively.
Scone Directions
Line a baking sheet with parchment paper (or lightly grease with a neutral flavored oil).
In a large bowl, whisk together flours, sugar, baking powder, salt, cinnamon, nutmeg, allspice and ginger.
Cut the butter into the dry ingredients using a pastry knife, fork or food processor until the mixture is uniformly crumbly and resembles cornmeal.
Add chopped cranberries to flour mixture.
In a small bowl, whisk together pumpkin purée, half and half, and egg. Fold wet ingredients into dry ingredients.
Form the dough into a ball. Pat out dough onto a lightly floured surface and shape it into a 1-inch thick rectangle, roughly 9 inches long  by 3 inches wide.
Use a large, sharp knife to slice the dough into thirds through the width. Cut those three equal rectangles diagonally so that you now have 6 triangular slices of dough. Place on prepared baking sheet.
Bake in preheated (425 degrees F) oven for 14-16 minutes until scones turn light brown. Place on wire rack to cool.
Icing Sugar Glaze Directions

Keep the scones on the wire rack (with a piece of wax paper underneath to catch drippings) while decorating.
Mix the icing sugar and milk together until smooth.
When scones are cool, use a pastry brush to paint glaze over the top of each scone.
Prepare spiced icing as the white glaze hardens.
Spiced Icing Directions

Mix the icing sugar, molasses, milk, cinnamon, nutmeg, ginger and allspice until smooth – it should be quite thick.
Decorate icing over hardened glaze using a pastry bag with a very fine tip or a squirt bottle.
Allow icing to dry at least one hour before serving.
you might also like.