challah.
Posted in baking, breads, recipes, savory, yeast breads | 1 comment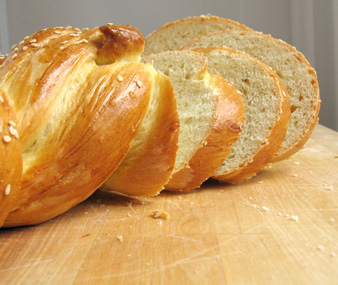 There is nothing quite as satisfying as making bread. Especially if it's the nourishing traditional bread of European Jewish peoples known as "challah," eaten on Shabbat and Jewish holidays (except Passover, when leavened bread is not allowed). Challah is a rich, eggy, and deliciously tender yeast-leavened bread that's surprisingly easy to make, and quite fun to shape, as it is typically braided, which makes for a beautiful presentation.
Challah is wonderful on its own, dressed simply with a pad of salted butter, and also makes a robust and flavorful base for a sandwich. And leftover challah is a superb choice for an excellent batch of French toast.
Challah
Bread Ingredients
5 cups all-purpose flour, plus more as needed and for dusting work surface
2 tsp salt
2 tsp instant yeast
a few threads of saffron (optional)
2 tbsp honey
3 eggs
1 ½ cups water or milk, warmed to about 70 degrees F if you are working by hand, plus 1 tbsp water
Egg Wash Ingredients
1 egg yolk
1 tsp water
1 -2 tbsp sesame seeds
coarse kosher salt, to taste
1 tsp canola oil (or other neutral oil or room temperature butter), plus some for greasing bowl and baking sheet
Tips
This recipe can be made with a powerful standing mixer capable of handling bread dough, a very large food processor (with a capacity of at least 11 cups), or by hand. The main sequence of directions below includes instructions based on using a standing mixer, since that's what I used, but if you're using a processor or the by-hand method, please refer to the appropriate first step below:
Food Processor Step 1 Method:

Fit food processor with the steel blade, and add all of the flour, salt, yeast, and saffron (if using), and process for 5 seconds.
With the machine switched on, via the feed tube, add the honey, 3 whole eggs, and most of the water or milk, and process for about 30 seconds.
Remove the cover; the dough should be a cohesive, barely sticky, easy to handle ball.
If the dough is too dry, add water or milk 1 tbsp at a time and process for an additional 5-10 seconds after each addition. If the dough is too wet, add a couple of tablespoons of flour and pulse briefly.
Remove from mixer and knead for one minute by hand on a lightly floured surface.
Proceed to step 2, below.

By Hand Step 1 Method (the method to take if you've got a bit of extra time and have some frustration to work out):

In a large bowl, combine ½ the flour with the salt, yeast and saffron (if using) and whisk to blend.
Add all of the warmed water mixture, 3 whole eggs and honey, and stir with a wooden spoon, until smooth.
Add remaining flour, a bit at a time, stirring until the mixture becomes to stiff to stir with a spoon.
Begin kneading, adding as little flour as possible.
Knead until smooth but still quite moist, about 10 minutes.
Proceed to step 2, below.
Directions
In the standing mixer's bowl, combine ½ the flour with the salt, yeast and saffron (if using), and all of the water, 3 whole eggs and honey using the machine's paddle attachment; mix for about 30 seconds.
Switch to the dough hook attachment, if you have one.
With the machine running on low speed, add the remaining flour a bit at a time, until the mixture has become a cohesive, barely sticky mass that pulls away from the sides of the bowl and sticks on the dough hook.
Remove from mixer and knead for one minute by hand on a lightly floured surface.
Use the oil or butter to grease a large bowl.
Shape the dough into a ball, place it in the greased bowl, and cover with plastic wrap or a damp tea towel.
Let dough rise for at least 1 ½ hours, until nearly doubled in size.
Deflate the ball and cut it into 3 equal pieces; shape them into balls, and let them rest on a lightly floured board for about 15 minutes, covered.
Roll each of the balls into ropes about 16 inches long and 1 inch thick.
Transfer ropes to a lightly greased baking sheet and lightly braid ropes.
Cover and let rest for 30 minutes more. Meanwhile, preheat the oven to 375 degrees F.
Egg Wash & Finishing Directions
Beat the egg yolk with 1 tsp water and brush the top of the loaf with this mixture using a pastry brush.
Sprinkle with sesame seeds and, if you like, a pinch of coarse salt.
Bake bread in the preheated (375 degrees F) oven for 40-50 minutes, or until the bottom of the loaf sounds hollow when tapped on, or the internal temperature reaches 200 degrees F.
Cool on a wire rack before slicing.
Storage
Eat within a day of making the challah bread; store in waxed paper if necessary.
you might also like.