buttermilk pancakes.
Posted in baking, breads, favorites, fruit, pancakes, quick breads, recipes | 10 comments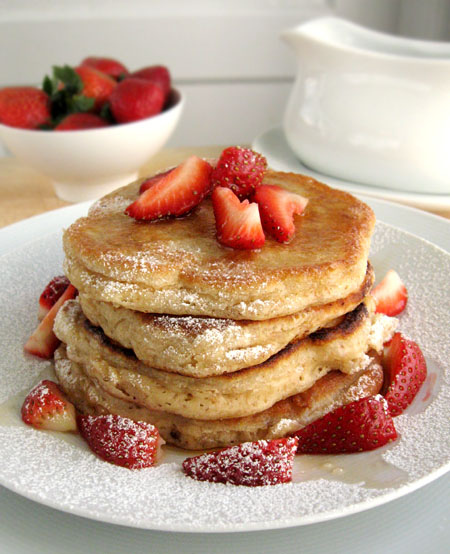 The center aisles and frozen foods sections of the typical grocery store are testament to the sad and unhealthy alienation of North Americans from the food we eat and the kitchens in which we used to actually cook it. I could go on for days about the shocking "convenience" foods I've witnessed whilst strolling through the supermarket: pre-packaged hard-boiled eggs, sliced and cored apples suffocated individually in sheaths of plastic, and vacuum-packed, pre-formed, uncooked meatballs, to name a few. But nestled near the top of the list of these culinary travesties lie box upon box of pancake mix, for these breakfast staples are ridiculously easy to make — even on a weekday.
Unlike their slightly more delicate and dramatic waffle cousins, the simplest breakfast pancakes are pretty fool-proof; you can bind together just about anything with flour and eggs, and throw it on a griddle to produce a hot, yummy breakfast. And unlike their grid-ironed relatives, leftover pancake batter can be kept covered and refrigerated for a few days, making these fluffy, buttery, downright delicious griddle cakes even more convenient.
Buttermilk Pancakes
Ingredients
¾ cup all-purpose flour
¾ cup whole wheat flour
1 tsp baking powder
1 tsp baking soda
1 tbsp brown sugar
½ tsp salt
2 large eggs
2 cups buttermilk (or plain yogurt)
2 tbsp butter, melted (or melted coconut oil)
1 tsp vanilla extract
butter or coconut oil (for griddle)
Tips & Variations

If batter is too thick — particularly if you are using yogurt instead of buttermilk — just add a little water.
Usually, the first batch of pancakes require a higher heat than subsequent batches; after the first batch adjust the heat as necessary.
Pancakes are best served hot, but if you won't be serving them right away, preheat an oven to 200 degrees F to hold on an ovenproof plate for up to 20 minutes*.
Directions
In medium bowl, mix together flours, baking powder, baking soda, brown sugar and salt.
In separate large bowl, beat together eggs, buttermilk, melted butter and vanilla.
Add dry ingredients to liquid mixture, combining only enough to moisten the flour; don't worry about a few small lumps.
Heat skillet or griddle to medium-low heat. If your skillet or griddle is non-stick, you can cook the pancakes without any melted butter or oil. Otherwise, brush with a couple of teaspoons of butter or coconut oil for each batch of pancakes you cook.
Ladle batter onto the griddle or skillet; I use a ¼ cup measure for roughly 4-inch pancakes (spread a little to shape, if need be).
Cook pancakes for 2-4 minutes or until the underside is golden brown and bubbles break on topside.
Flip and bake another minute or so longer until second side is golden brown.
Serve hot or hold in oven*.
Serving Suggestions
Instead of pressing a cold pad of butter into your lovely hot pancakes, think ahead and melt some extra butter to drizzle all over that steamy stack.
Make them pretty and nutritious by serving with berries and other fresh fruit.
Make them extra decadent by topping with fruit sauces, whipped cream, or dusted with icing sugar.
And don't forget the maple syrup.
Variations
Supe up these basic buttermilk pancakes by getting creative with tasty fillings:
Stir in 1 cup fresh (not frozen) blueberries to finished batter, mixing with as few strokes as possible (so as to avoid having purple pancakes).
Slice a whole banana into ¼-inch thick rounds and gently press three or four sections into each pancake after pouring batter on griddle. Turn carefully and cook a little more slowly to ensure that the pancakes cook through without burning the banana. This is a super way to use up over-ripe bananas.
Pour batter onto a piece of cooked pancetta or bacon and cook as usual.
you might also like.