oatmeal raisin carob-chip cashew-crunch cookies.
Posted in baking, cookies, favorites, recipes | 6 comments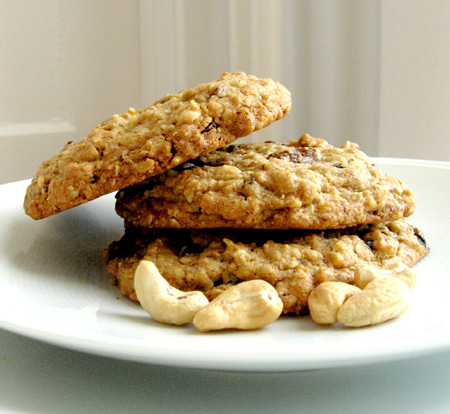 Talk about a mouthful. This is a suped up version of my traditional (and somewhat famous) oatmeal raisin cookie recipe. In addition to the loveliest plump organic Thompson raisins, I've added  a handful of crushed cashews to boost the crunch factor, and malt-sweetened carob chips to amp up the melt-in-your-mouth quotient.
Although on a scorching day like today — when it read 38 degrees Celsius before noon — the carob chips and butter (and just about much everything else in my cozy kitchen) were ready to liquefy well before they made it anywhere near the oven. Lord knows why I chose such a blazing day to bake cookies, but these are the sacrifices you make when you want to serve your daughter a treat following her first day of pre-school (after a fully consumed healthy dinner, of course).
Oatmeal Raisin Carob-Chip Cashew-Crunch Cookies
Preheat oven to 350 degrees F
Ingredients
1 cup butter, softened
1 cup brown sugar
1 large egg
1 tsp vanilla
1 ½ cups whole wheat flour
1 ½ cups rolled oats
1 tsp baking soda
½ tsp salt
1 cup Thompson raisins
½ cup carob chips
1/3 cup crushed unsalted cashews
Tips
The trick to making my signature cookie is taking them out of the oven while they are still quite soft; this massive drop-style cookie is going to get the majority of its baking time in the oven*, but will still be soft to the touch (and not firm enough to lift from the baking sheet with your hand) when you remove them from the oven. They will, however be a light golden brown color all over. At this point, remove the baking sheet from the oven and let the cookies "set" and complete baking on the cookie sheet for another 20 minutes (if you want to serve them warm), or until totally cool (if you'll be stashing and storing them to serve later).
Directions
In large bowl, cream together butter and brown sugar.
Add egg and vanilla. Beat well, until smooth.
In separate bowl, combine flour, rolled oats, baking soda and salt. Add dry ingredients to butter mixture along with raisins, carob chips and cashews. Mix thoroughly.
Spacing 3 inches apart, drop approximately one dozen 1/3 cup scoops (or heap dough in a standard ice cream cone scoop to achieve this measure) onto parchment paper lined baking sheet(s).
Bake in middle of preheated oven (350 degrees F) for 12 – 15 minutes*.
Remove from oven and allow to set on cookie sheet for another 20 minutes.
Serve naked or à la mode.
Changes & Substitutions
If you would prefer to use chocolate chips (milk, dark, semi-sweet, or white) in this recipe, fill your boots!
This entire recipe makes 12 obscenely large cookies, big enough to serve a lone cookie as a complete dessert; if you would prefer more, smaller, snack-size cookies you'll need to reduce and experiment with the baking time depending on how much smaller you make each cookie.
Storage
Store cookies in a single layer in an air-tight container; heaping them on top of one another may result in cookies bending, breaking apart, or sticking together.
you might also like.