peach-pecan tart with gingersnap cookie crumb crust.
Posted in baking, fruit, fruit desserts, pies & tarts, recipes | 0 comments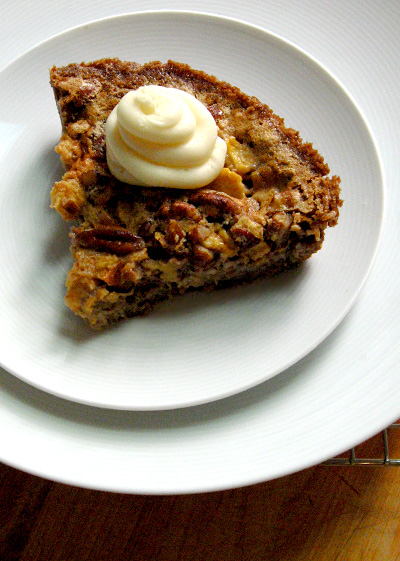 One word? Heavenly. Our weekly CSA food box with Taproot Farms contained the most lovely peaches (from sister farm, Noggins) this week, but for some strange reason my hubby isn't a huge fan of peaches – a lesson I learned when a peach cobbler I made went to waste. So this time I decided to experiment a little and whip up a dessert that would incorporate the peaches, in disguise.
Nobody can resist a butter tart, so in this recipe, I've fused the a buttery-sweet pecan tart with the tartness of peaches, a combination which (I am happy to announce) results in nothing other than pure bliss. The intense sweetness of the classic butter tart is perfectly subdued by the peaches, and all of this is made more interesting by the crunch and flavor of the smashed pecans and gingersnap cookie crumb crust.
Peach-Pecan Tart Recipe
Preheat oven to 375 degrees F
Gingersnap Cookie Crumb-Crust Ingredients
30 gingersnap cookies
2 tbsp sugar
5 tbsp butter, melted
Peach-Pecan Filling Ingredients

1 cup coarsely smashed pecans
2 cups fresh diced peaches
2tbsp tapioca starch
6 tbsp butter, melted
½ cup brown sugar
½ cup sugar
¼ tsp salt
1 tsp cinnamon
1 tsp ground ginger
3 large eggs
Tart Shell Directions
In food processor with knife blade attached, or in blender at high speed, process gingersnap cookies and 2 tbsp sugar until fine crumbs form.
In 9½ to 10 inch tart pan with removable bottom (or similar sized cast-iron skillet), with fork mix cookie crumbs with melted butter.
With hand, press mixture into bottom and up side of the pie plate or skillet, making a small rim.
Bake crust 8 minutes in preheated oven (375 degrees F); remove to wire rack.
Peach-Pecan Filling Directions
Toast nuts in a shallow baking dish for 6 minutes at 375 degrees F; set aside.
In medium bowl, thoroughly combine peaches and tapioca starch and set aside.
Combine butter, sugars, spices and salt.
Beat in eggs, one at a time.
Fold in pecans and peaches.
Pour into prepared tart crust
Bake at 375 degrees F for 35 minutes.
To serve, carefully remove side of tart pan (if using).  If desired, top with a dollop of buttercream frosting or whipped cream.
Storage
Refrigerate any leftover servings.
you might also like.